by, Howard Parkinson;

Co-owner of Dolphin Gites in Vendée

"Running a successful gite business in France can be hugely rewarding, and is

totally compatible with family life" (Howard Parkinson)
Owning and running a successful gite complex in France offers a fabulous way of life. Many believe it is

a preferable to running a hotel business in the UK or B&B in France. The summer season is only 4 months, so you have 8 months of relatively free time. Also, gites are self catering accommodation, which means that during the season, the only busy day is changeover day and for the rest of the week you can relax. You are not involved with cooking breakfast every morning and daily housekeeping duties.

During the summer season you meet wonderful people and make friends for life.

Income Potential is a gite complex a good investment?

Yes it is. Provided the business is located in a popular tourist area of France, for example the Vendée region near the coast, or the Dordogne, then it is realistic to expect a return on each gite in the region of 8-12,000 euros/ gîte/ season. This is based upon 2014 rates and assumes that the business is well located, and well advertised.
A gite complex with 3 gites can generate a gross annual income of about 30,000 euros and a gite complex with 6 gites can generate an annual income in the region of 60,000 euros. These figures are gross and approximate, however, based upon our experience of running gites in France, they are an honest estimation of income.
The return on your initial outlay should be in the region of 10%, however, in reality it is more than this. The price paid for a gite complex includes the family house as part of the package. If the value of the house is deducted from the investment figure, then the return on investment is closer to 20%.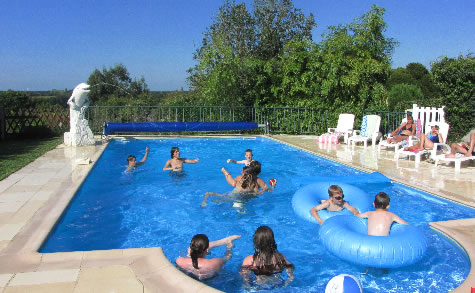 Owning and running a successful gite complex can be a fabulous way of life with about 8 months free time during the off-season period.
In France, taxes and social contributions are relatively low for gite income. Gite owners are not considered to be registered businesses in the typical sense. If you run rural gites in France you will not be required to employ an accountant for book keeping and to off-set running costs against taxation etc, and your taxable allowance is generous. You should deduct approximately 15% from gross income in order to estimate net income, bearing in mind that you will have property maintenance to pay and running costs can be high.
However, all things considered, a typical family owning and running a 5-gite complex can live reasonably well, providing the business is successful. A family intending to make a living from a gite complex with fewer than 5 gites will most likely require an additional source income.
The key to a successful gite business is linked to the following factors:
1/ Number of gites
2/ Location
3/ Size, quality and character of the gites.
4/ Effective marketing
5/ Facilities on-site
6/ Skill set of the owners, eg. DIY & marketing skills
7/ No debts or mortgage
The Initial Investment how much should I pay for a gites complex?
Don't pay much attention to the various formulas which claim to calculate the value of a gites complex. The factors determining value, are location, the condition and character of the property and the number of of gites on the complex. A gite complex 10 minutes from the beach will be worth more than the same spec complex 25 minutes from the beach. A 5-gite complex will be worth more than a 3-gite complex in the same area, etc. However, there are bargains to be found. You will need to shop around.
Asking prices for such properties range from 300K to 900K euros depending on condition, number of gites, character and location of the property. The average price for a viable business proposition is somewhere between these values. As a general rule, expect to pay more if the gite complex has five gites or more and the vendors can present you with factual evidence of past income (a copy of last years' tax return).
Ask yourself questions such as, is the complex located in a popular tourist destination? How far is it from the beach? If it is located more than 15 minutes from the beach, then it is not ideally located. There are tourist destinations in France which are non-coastal which have a different appeal such as the Dordogne.
A nice house and an in-ground heated swimming pool are important considerations. You should expect a nice house as part of the package, and a quality in-ground heated swimming pool is a must for a successful business.
Arguably, the perfect gite complex would include a substantial family house, spacious gardens with a heated (in-ground) swimming pool, covered table tennis and at least 5 gites of different sizes in good condition. It would be in cycling distance from the beach (if coastal), or otherwise located in a tourist hot spot. Most importantly, the owners should be able to produce a recent tax return to show you their declared income for the last financial year. For a 5-gite complex, the income declared should be more than 45000 euros.
The skills required is it for you?
As the owner-manager of a successful gite complex you must be sociable and be prepared to mix with your guests. It is common practice these days to have a drinks evening each week to give your guests the opportunity to meet, socialise and break the ice. However, you don't want to be over-bearing and must respect the fact that guests also need time alone, or in the company of other guests, without you being omnipresent. You will have to demonstrate tolerance and give respect to a wide range of people, some of whom you may not like, who have paid you the highest complement in deciding to have a summer holiday at your gite complex.
Also, you will need to have significantly above average DIY skills. One of your more important roles is to maintain your property. You will not be able to afford to call out a professional every time there is general maintenance to attend to. You may need to undertake extensive painting during the off-season period. The more practical skills you have the better. Also, you will have a lot of garden maintenance to do, and you will have plumbing repairs to see to and even minor masonry matters. It is all part of running gites.